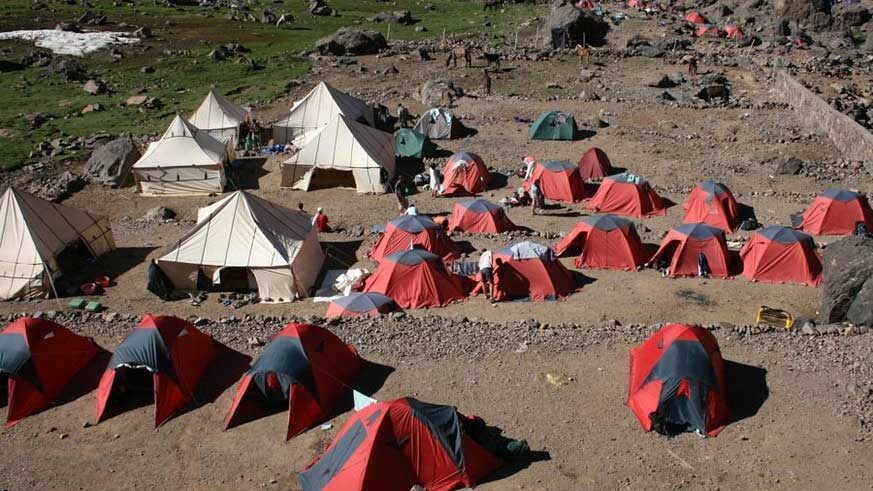 GREAT TRAVERSE 22 DAYS OF MOROCCO
Guide , Camp site '(bivouacs) , Food , Camel , Equipments, Transport , Hotels , Cook , Accommodations
drinks , entrances fee, tipping, food in city, flight tickets , travel insurance
GREAT TRAVERSE 22 DAYS OF MOROCCO
Flight to Marrakech Flight to Marrakech. Airport welcome by your guide and transfer to the city. Dinner. • Property type: *** hotel
Day 1 – Flight to Marrakech Flight to Marrakech. Airport welcome by your guide and transfer to the city. Dinner. • Property type: *** hotel
Day 2 – Marrakech – Neltner minibus Departure to Imlil at 1760m. Meet the team of Berber mule. Early Trek- Picnic to the shrine of Sidi Chamharouch. Continued Neltner climb to base camp at 3105m above sea level, the first bivouac at the foot of Toubkal. • 5h • Elevation gain: 1400 m • Type of accommodation: tent • Transfer: Minibus, 1:30
Day 3 – Neltner – Toubkal Early morning, climb Toubkal (4167m) by a path in successive stages, via the conventional route, arrival at the summit, a pano-rama is offered to you your guide will take you for a ride horizon, descent by the northern route and return to the same camp. • ON 5:30 • Elevation gain: 1060 m • Elevation – 1060 m • Type of accommodation: tents
Day 4 – Tizi Ouanoums – Imhilen Tizi'N'Ouanoums of mountain pass (3650m) and descent to Lake Ifni (2300m) and then to the village of Imhilen (2000m). Overnight homestay or in tents. • ON 6:30 • Elevation gain: 600 m • Elevation – 1650 m
Day 5 – Valley Tifnout – azibs of Likemt Descent to the Tifnoute valley, passing near the large village Amzouzert. Then the long climb sen-tier transhumance to the Col de Tizi'N'Ouraï (3109m) and continuing until azibs Likemt (2500m). Installing the camp for the night. • 9 am walking • Elevation gain: 1300 m • Elevation -: 800 m • Type of accommodation: tents
Day 6 – Pass Oumchichka – Assaka ascent of the Col d'Oumchichka (3000m) and passing the small village of Amenzel (2400m) the highest village of sedentary Western Atlas. Installing the bivouac in sheep Assaka (2100m). • 8 am walking • Elevation gain: 650 m • Elevation -: 1000 m • Type of accommodation: tents
Day 7 – Setti Fatma – Pan Yagour Descent of the gorges of Assif Do Oufra. Walking in water for 3 hours if the water level permits, before re-joining the village of Setti Fatma (1450m) and its small shops and hamlets nestled deep in Ourika. Mounted on the Yagour plateau crossing the Nepalese bridge over Wadi Ourika. Installing the camp in the fields below the village of Ouigrane 1700m. • 6:30 am walking • Elevation gain: 400 m • Elevation -: 700 m • Type of accommodation: tents
Day 8 – Plateau Yagour – Ouarzazt quiet Step to reach the plateau at 2300m Yagour, this step will help you discover the so special pastoral life of this plateau before reaching the sheep Adernane. Discovery of the site of rock engravings. Installing the bivouac near the village of Ouarzazt (2100m). Enjoy the afternoon to relax or stroll. • ON 4:30 • Elevation gain: 600 m • Elevation: 300 m • Type of accommodation: tents
Day 9 – Valley zat – lawns Afra Descent into Zât valley towards the village of Azgour (1400m) and ascent to the lawns of Afra through the gorges of Assif Afra. Installing the bivouac at 2100m. • 7 hours of walking • Height difference: 800 m • Elevation -: 700 m • Type of accommodation: tents
Day 10 – Tichka – Isk Do Izikhs – Titoula Crossing the road of Tichka, supply point for the 2nd part of journey (2200m). Then lift the ISK Do Izikhs, fairy chimneys (2500m) before joining the Titoula Valley through the gorges of Tilgui. Installing the bivouac in Titoula (2100m). • 7 hours of walking • Height difference: 550 m • Elevation -: 550 m • Type of accommodation: tents
Day 11 – Col de Taourirt N'Tougarine – Lake Machalt We leave again the villages towards the mountain pastures. Rising collar N'Tougarine Taourirt (2900m), then arrived in Assif N'Tichki. Overnight camping near the lake Mchalt (2400m). Beautiful isolated site in the nomadic territory. • 7:30 am walking • Elevation gain: 1000 m • Elevation -: 700 m • Type of accommodation: tents
Day 12 – Tizi Issermad – Terga Valley By Tizi Issermad, crossing the peaks of Jebel Tighaline (2800m). Along the way, discover fossils. Descent into Terga Valley (2000m). Installing tents in the circus Akka N'Tisnt at the foot of Jebel Anghomar. • ON 5:30 • Elevation gain: 400 m • De-leveled – 700 m • Type of accommodation: tents
Day 13 – Tizi N'Warg – Village Taghfiste – Taoudja Step to cross the Tizi N'Warg (2650m) to find the sedentary life in Tighfiste Valley. Picnic in the shade of walnut trees at 1900m, before ascending to grazing Taoudja at 2400m. We will sleep in camp not far from a small source. • 6:30 am walking • Elevation gain: 1000 m • Elevation -: 800 m • Type of accommodation: tents
Day 14 – Taoudja – Ait Ali Do Ito The trail follows a succession of small, steep valleys and crossing a forest of juniper and oak trees, to reach the pass at 2400m which separate us from the beautiful village of Megdaz, characterized by its architecture (fortified granaries) visit the village. Then continuation to Ait Ali Do Ito (1800m). Overnight in mountain hut at the edge of Wadi Tassaout. • 6 hours of walking • Height difference: 450 m • Elevation -: 800 m • Type-ing houses: cottage
Day 15 – Valley Tassaout Stage dedicated to the discovery of the rich landscapes of Tassaout valley, crossing along a mountain track non-fre quentée, a village perched on the arid slopes estates: Hamza has, Ichbakkene, Amzri and of Tassgaiwalt. Installing the camp before the entry of the gorges of the Ouandrass (2200m). • 7 hours of walking • Height difference: 400 m • Type of accommodation: tents
Day 16 – Valley Tassaout – Plateau Tarkkedit We leave again the villages. Tarkkedit climb to the plateau by the footpath of Asdrem (3100m), discovery of sinkholes and caves occupied by nomadic Dades before reaching the base camp to the sources where the river takes Tessaout birth. Installing the bivouac at the base camp at 2890m Mgou. • 6:30 am walking • Elevation gain: 1000 m • Elevation -: 300 m • Type of accommodation: tents
Day 17 – Ascension (optional) M'Goun (4068m) and descent to the sheepfolds of Ikkis (2100m). Early morning start of the ascent (optional) easy M'Goun, by the west to reach the crest, and on to the summit at 4068 m. stunning 360 °. Descent by the north Slope to Tizi 'Do Oumsoud and into the throats Arouss (2500m). The ascent is optional, can follow the mule path with only 3 hours walk. • 8 am walking • Elevation gain: 1180 m • Elevation -: 1568 m • Type of accommodation: tents
Day 18 – Tizi'N'Asdrem (2900m), the valley and the village Arouss Ait Said Small climb to the Tizi'N'Asdrem (2900m), before descending to the sheep of Ikkis (2100m) and back sedentary life in the valley and the village Arouss Aït Said. Last camp at 2000 m by the stream. • 5h • Elevation gain: 450 m • Elevation -: 1000 m • Type of accommodation: tent
Day 19 – The valley of Bougmez tranquil base for discovering the fertile valley of Bougmez. Ascent from village to village where we meet stork nests, apple gardens, dinosaur tracks, sanctuary of Sidi Moussa … Dinner and overnight at the lodge (1800m). • 5h • Elevation gain: 250 m • Elevation -: 200 m • Accommodation type: cottage
Day 20 – The valley of Bougmez – Marrakech Return to Marrakech by minibus. Lunch in a restaurant along the way. Arrival in Marrakech in the late afternoon. Overnight at the hotel. Dinner. • Property type: hotel *** • Transfer: Minibus, 5h
Day 21 – Marrakech Day and free meals in Marrakech. • Property type: in hotel
Day 22 – Return flight to Paris Transfer to the Marrakech airport and flight back to Paris.
INCLUDED
All food on trek, including plates, cups, utensils.
All ground transport required to and from the trek.
Services of an English speaking, qualified Local Guide.
All Accommodation during the Trek (Berber House & Guest House and Refuge & berber ).
Portages (Cook and Mules and Porters).
Camel ride & Night in a berber tent, Diner and breakfast at the desert camp.
Mules and muleteers
NOT INCLUDED
Soft Drinks (Fanta,Coca,water,…)
Personal travel insurance .
Personal equipment (Sleeping bags,walking shoes ,…)
Lunches to the desert trip.
Tip for the guide and cook and driver
Make an enquiry
If you would like to book this trip or if you have any questions please send us a message letting us know what date you want your trip to start and how many people are in your group. We can also arrange for accommodation before and after your trip if you are interested.
Note: More than 6 People in a Group will get Flat 10% off on any Tours Programs .