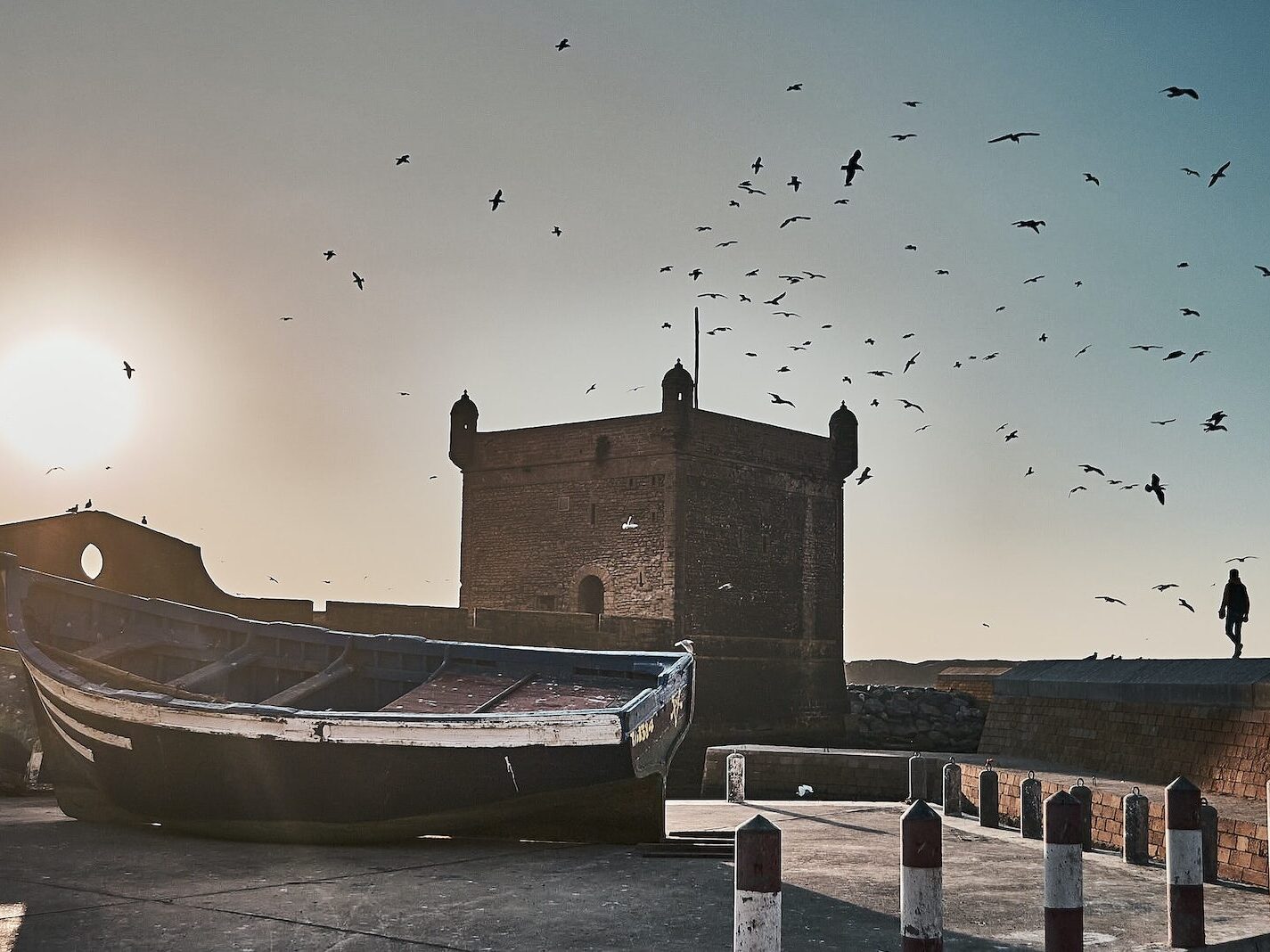 EXCURSION FROM MARRAKECH TO ESSAOUIRA
drinks , entrances fee, tipping, flight tickets , travel insurance
EXCURSION FROM MARRAKECH TO ESSAOUIRA
Departure from Marrakech to 8 h 30 min at the Tour of Essaouira A (180 km) from the city of Marrakech nearly 3 hour drive via At oudaya in (23 km) Mar-rakech chichaoua and Sidi el Moukhetar to (120 km ) Marrakech
Departure from Marrakech to 8 h 30 min at the Tour of Essaouira A (180 km) from the city of Marrakech nearly 3 hour drive via At oudaya in (23 km) Mar-rakech chichaoua and Sidi el Moukhetar to (120 km ) Marrakech stop for coffee after 15 minutes of rest continuation Mejji Tafettachet Ounara then (5 km) of Essaouira a stop for a nice view and also take a great picture for the city Mogador "Essaouira)) almost 85000 inhabitants Essaouira her corset by fortified walls, its port and its trawlers flights of gulls, how can we forget Saint-Malo? But the charm of houses with flat roofs white, blue window frames and minaret quickly remind us that we are far from Britain .Essaouira is a city out of time, which surrounds and captivates its guests quickly prisoners .Difficile its ramparts while s escape, the charm works and we loose more. Essaouira if a city rutile there are a lot of places to visit in the city as Skala souk fish shops cedars The port of Essaouira s appeal as the city of wind it well known by the international festival of music of Gnawa. The possibility also to eat fresh fish either in port or Haber or the square of Moulay Hassan. Also if possible to the dromedary at the seaside or walking to the side or to the horses. At the end of the afternoon return to Marrakech returned to Marrakech after 3 hours of road of Essaouira in Marrakech.
INCLUDED
NOT INCLUDED
 Soft Drinks (Fanta,Coca,water,…)
 Personal travel insurance .
 Personal equipment (walking shoes ,…)
 Tip for the guide and driver.
Make an enquiry
If you would like to book this trip or if you have any questions please send us a message letting us know what date you want your trip to start and how many people are in your group. We can also arrange for accommodation before and after your trip if you are interested.
Note: More than 6 People in a Group will get Flat 10% off on any Tours Programs .