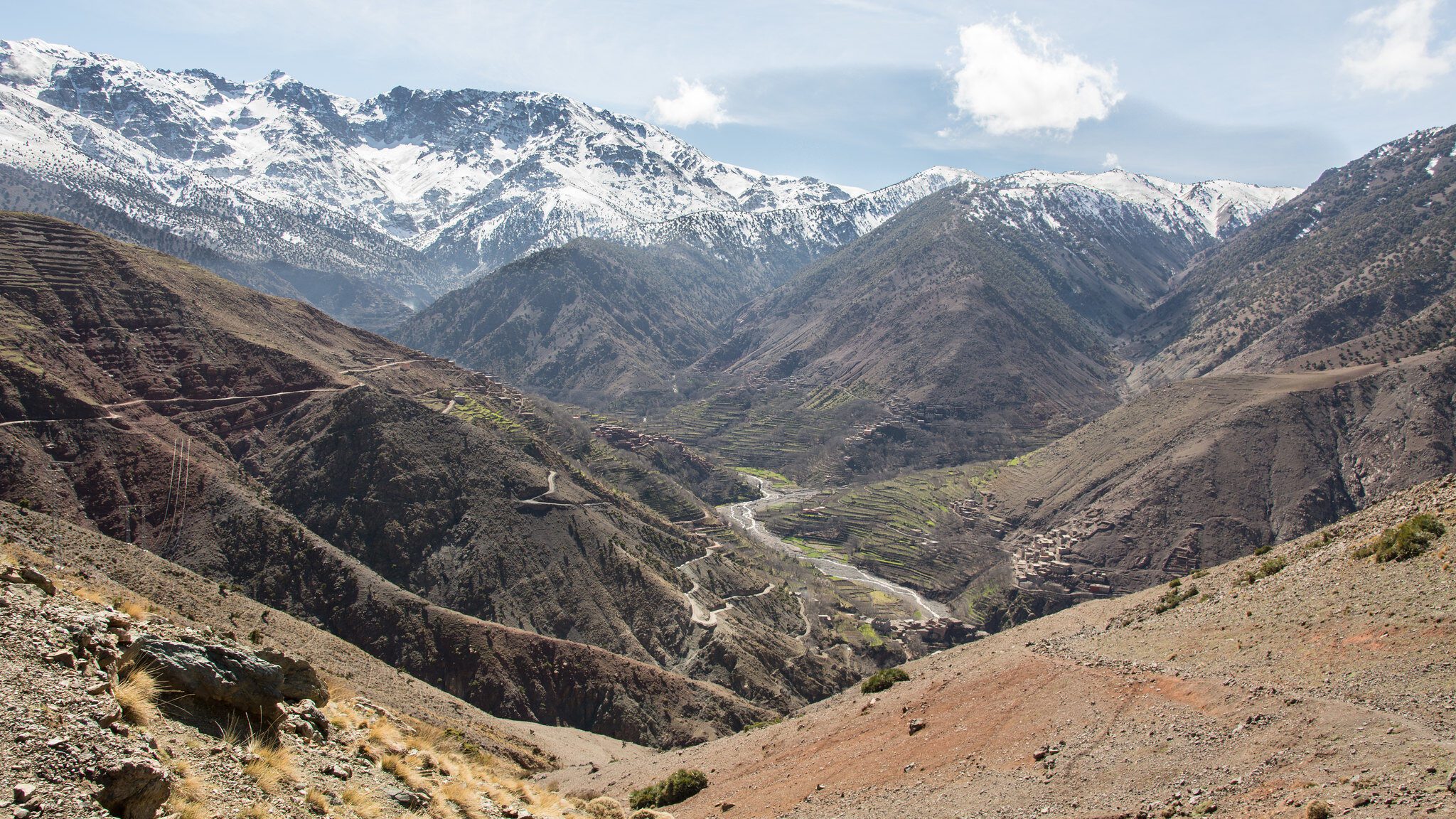 BERBERS VILLAGES AND ASCENT OF M'GOUN
Guide , Camp site '(bivouacs) , Food , Camel , Equipments, Transport , Hotels , Accommodations
drinks , tipping, food in city, flight tickets
BERBERS VILLAGES AND ASCENT OF M'GOUN
Arrive at the airport transfer to the hotel at night Riad in Marrakech
Day 1: Arrive at the airport transfer to the hotel at night Riad in Marrakech
Day 2: Marrakech – Ouzoud – Tazegazaouat
Early departure from Marrakesh, via steering azilal to Tamelalet, lartaouia, visit the waterfall of ouzoud and then we continue to reach the valley has bouli ren-cons with our mule teams of sebte has bouli only if the starting point of our hike up the valley and through the vilage of abachou (1600m) to get to our camp at Tazegazaouat (1800m) almost 2 hours walking
Day 3: Tazegzaouat (1700m) -tizi n roughelt (2600m)
After our breakfast, you will climb our collar (2600m) passing through some Berber villages as the village of Roughelt that it is perched montain and the Assif n wagga the lunch started in the early afternoon we continue our journey to the foot of Tizi n roughelt (2600m) night at the bivouac after 6 hours walking.
Day 4: Tizi n Rouglet (2860m) –The board Tarkedit
After an excellent night and breakfast was a climb (260m) to reach the beautiful view on the massive high Tassaout then went on to reach the highlands of Tarkedit at (3200m) then descent to our camp that it is located (2900m) after 6 hours of steps.
Day 5: Tarkedite – the top-M'goun Oulilimt
Departure early in the morning to our top of the high central Atlas Ascension M goun culminating at (4068m) Descent altitude on the neck of amssoud to join our mule teams and cook our bivouac oulilmt (2600m). spend the night at the bivouac after a great day from 9 am walk.
Day 6: Oulilmt – Aflafal-tighermetn has ahmed- Tizi n has imi (2900m) down to it bougammez departure from oulilmt leadership via the Happy Valley to the red mountain via the source Aflafal, Ahmed has tighermet Before climbingthe neck of  the tizi n has to imi (2900m) beautiful view and panoramic view of the valley has bougamaz (the happy valley) night at the cottage almost 7AM 8 hour walk.
Day 7: Ait bougmez- azilal – Marrakech.
Departure after breakfast to join the red city (Marrakech) after a great time at the massive m 'goun 4 hours drive from Bougmez to Marrakech  to arrive early in the afternoon for shopping or to discover the second ancient city of Fez after night at the hotel or at the riad.
Day 8: Hotel transfer to the airport. If the end of our service
The price — 4 8 people € 520 p / w 9 — 16 PEOPLE € 490 p / p
INCLUDED
All food on trek, including plates, cups, utensils.
All ground transport required to and from the trek.
Services of an English speaking, qualified Local Guide.
All Accommodation during the Trek (Berber House & Guest House and Refuge & berber ).
Portages (Cook and Mules and Porters).
Camel ride & Night in a berber tent, Diner and breakfast at the desert camp.
Mules and muleteers
NOT INCLUDED
Soft Drinks (Fanta,Coca,water,…)
Personal travel insurance .
Personal equipment (Sleeping bags,walking shoes ,…)
Lunches to the desert trip.
Tip for the guide and cook and driver
Make an enquiry
If you would like to book this trip or if you have any questions please send us a message letting us know what date you want your trip to start and how many people are in your group. We can also arrange for accommodation before and after your trip if you are interested.
Note: More than 6 People in a Group will get Flat 10% off on any Tours Programs .